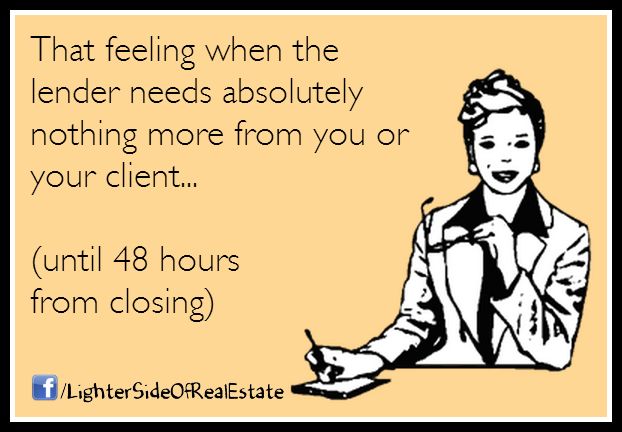 Questions to Ask Your Lender Before You Give them Any Information...
Many of us will search the internet for the best interest rates, but interest rates are only the first question you would want to ask your lender. All lenders will base their rates on your specific circumstances and cannot prepare the required Good Faith Estimate unless you answer some vital questions, like how much you make, how many years have you been employed, what is your credit score, how much debt you already have, etc. Before you share that personal and private information with any particular lender, one of the questions you might want to ask that lender is what their Standards of Service are. What's that? Well, how long do they typically take to complete the loan approval process, order the appraisal, how long does underwriting take and, once any conditions required by the underwriter have been cleared, when loan documents will be sent to escrow and, once you have signed those documents and they have been returned to the lender, when funding will occur. Believe me, when you have to schedule movers and/or landlords or buyers of your current residence, these questions take on vital importance. My favorite lender has an 18 business day Standard of Service, with 1 or 2 days in underwriting, loan documents within 24 hours of clearing conditions and, if necessary, funding the same day as loan documents are signed. A rush is also possible (he closed one in 14 calendar days).
During one of my recent escrows, the listing agent provided for a 45 day close, because it was an FHA loan. The lender initially asked whether we could close early, setting up an expectation on the part of both Buyer and Seller that a 30 day close was possible. When the 30 days began to approach, suddenly the only member of the lender's staff who responded was an assistant who simply wrote that, because they were so busy, they were processing the loan so that it would close by the closing date shown on the offer. Underwriting took an excruciating 5 business days, and one of the conditions might have required a new appraisal, which would have taken at least one more week. The original appraisal had been done a month ago. The Seller was frantic, because for reasons of his own the delay could have cost him ownership of the house itself. The Buyers had already given notice to their landlord and would had nowhere to go with that delay. To its credit, the lender pulled out all the stops and managed to close on time, but if the lender had processed the loan more expeditiously, none of this unnecessary stress would have happened.